How to set Vast Discount Combine On Shopify Store
How to set Vast Discount Combine On Shopify Store you can set some feature before using on the shopping. This will be a remarkable part for shops when installing. Please follow the instructions below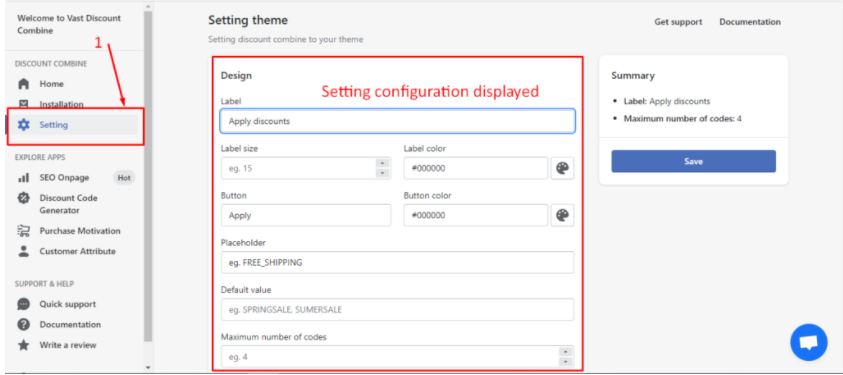 Step1: Setting configuration displayed – How to set Vast Discount Combine On Shopify Store
Label
You can change label discount on your shop. On this shop, customer can see at: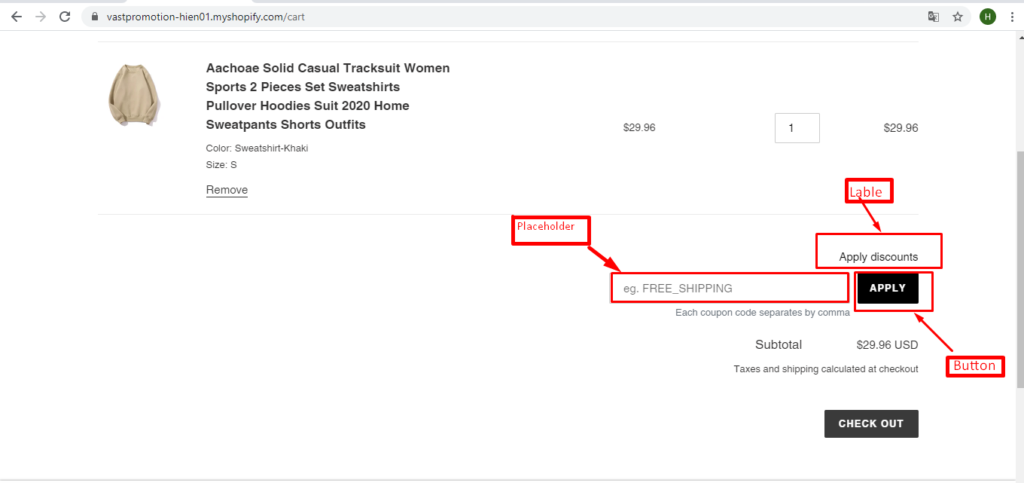 Label feature: you can name the discount campaign you want to set. In the example below, I let my shop use the apply discount campaign. Name I set "Apply discounts" or "Zara discounts"

2. Label color: You choose the color of the label name you want to set. Then click

3. Label size: Customize according to the size you want to order. We have set the label size to 15 and you can change it.

Setting Button: Button and Button Color
Button For examples, you can set name Button is Apply, or "Enter, Use it,so on…" whatever name you want to use.
Button color: you can change this.

Setting Placeholder
Setting Placeholder is what you want the customer to see this box. for the purpose of entering a discount code into that box.
Eg: In this box below, I have entered this text"eg. FREE_SHIPPING" to motivate customers to place orders as soon as they get free shipping.

Default Value
Your shop can use one or more discount codes for all customers by default on the shop and auto all customers to get discounts. If your shop does not give away discount, you do not need to fill in this box. Please enter this code after creating the code on the shop.
The correct way of writing the structure of the code is separated by commas.

Maximum number of codes
Shows the maximum number of code codes your shop allows customers to enter.
eg: I have filled 4 – discount codes for customers to be used in my shop. So the customer will enter the maximum 4 codes. You can customize for your shop, be it 1 or 2.

Step 2: Translation – How to set Vast Discount Combine On Shopify Store
This section will help your shop install commands according to the language you want to use. In the example below, we use English to facilitate the majority of Shopify shops. If your shop is targeting customers in Japan, China or any other country, you can change the language in this section.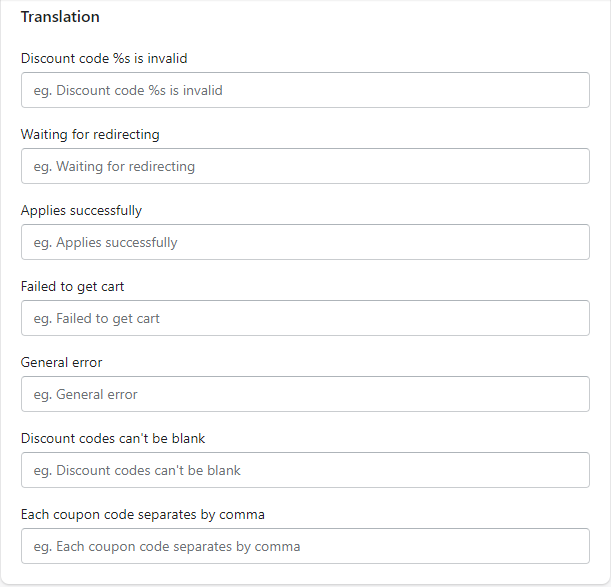 Discount code %s is invalid
The notice portion of the client's code has no effect. Example, Customers who enter two codes but wrong second code will notify:" Discount code 2nd is invalid". You can replace this sentence with your language sentence.

Waiting for redirecting
Displayed in case the customer successfully entered the discount code but waited to switch to the checkout page

Applies successfully – How to set Vast Discount Combine On Shopify Store
This is the part that informs customers of the copy when customers have successfully entered the discount code.

For example: Customer has 2 discount codes of your shop Test12 and test1. When customer fill in box, their screen display applies successfully before going to checkout page.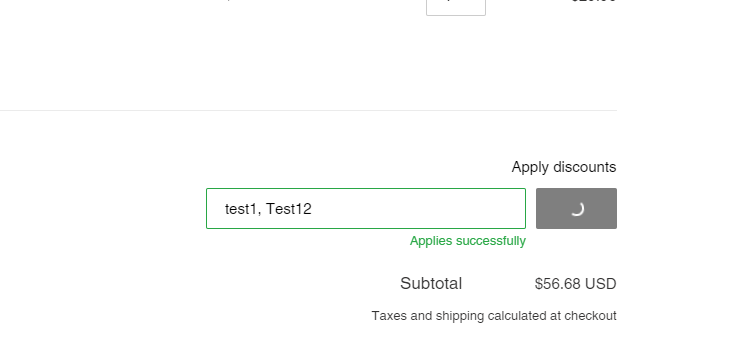 Failed to get cart
Notice in case your shop does not have a cart page. For example you use popup, native, drawer, and so on.

General error
You need to fill in the box that the client's code is incorrect or your customer has entered the wrong structure. Here we usually refer to General Error. eg I fill incorrect the discount code.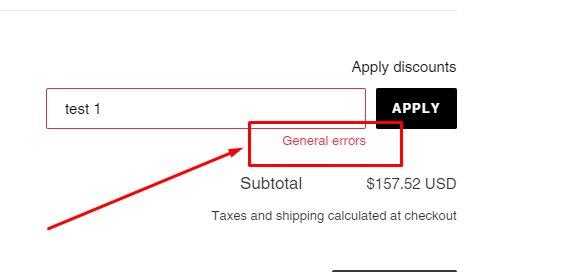 Discount codes can't be blank
Notice Customer leaving the coupon code box blank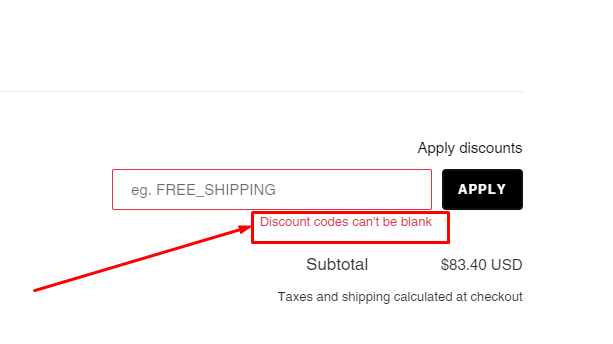 Each coupon code separates by comma
Note: It is imperative that your customers enter the correct structure of the discount code entry. A right sign is required between codes