ALT Text (alternative text) is a description of the images in words and helps your customer understand images when they unable to see it in the case of slow Internet Connection.
Using alt text on your images can make for a better user experience and help you enhance SEO image. Along with implementing image title and file naming best practices, including alt text may also contribute to image SEO.
VP: SEO Marketing Manager app helps you add text under all your images within minutes. Here is how to setup this feature in the app.
Step 1: Setup ALT Text template
First, click Image Alt Text in the left navigation. The alt text setting page is displayed in the right side of your screen.
You must setup the template for ALT Text images because the app will use the template as a reference for the ALT Text update.
We recommend you setup the template:
For product images: [product_title] – [shop_name]
For collection images: [collection_title]
For blog posts images: [article_title]
Example: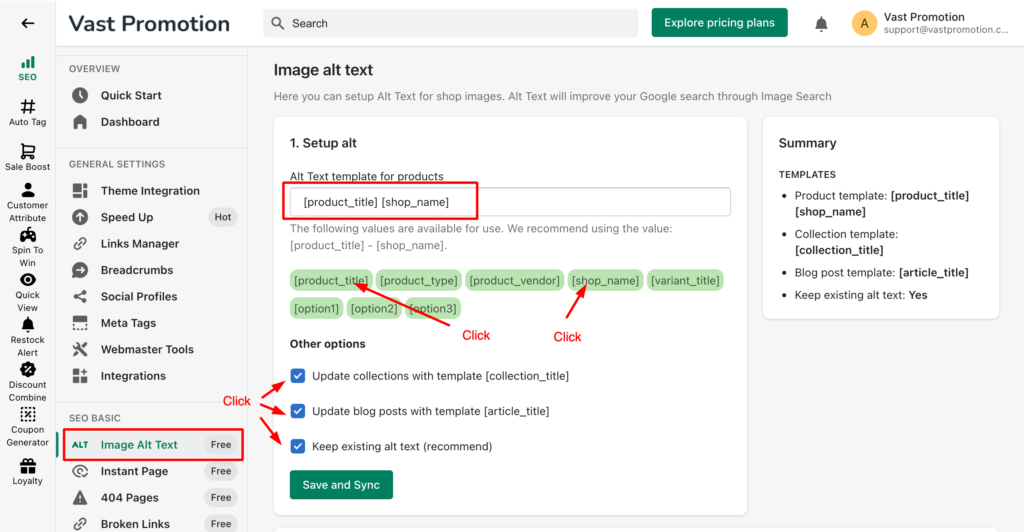 We highly recommend select Keep existing alt text. The app will not update images that already have alt text.
Step 2: Save and Sync
Click Save and Sync to complete update image alt text